The CIO Foundation
IT & Information Security Management Education
The CIO has to deal with an increasing number of domains linked to both technology and business.
This module will give to current and prospective CIO's an overview of the key areas that he or she has to master in order to achieve tangible objectives.
The major purpose of the module is to expose the participants to most of the key areas that the current CIO is confronted with, including the development of a communication plan for IT organisations and leadership.
Interested in enrolling in the module?
Submit your contact details
and we will shortly get back to you!
1 day/week (evening class)
Every Monday, from January to March 2019
2500 €
(VAT. excl.)
Discounts apply for multiple registration
After this module, you should be able to understand the key areas that the CIO or the Head of IT has to deal with on a daily basis. Get to understand the principles of:


The CIO Agenda - Digital transformation.
Building a strategy for IT enterprise.
Governance of IT enterprise.
Sourcing strategy elements and key processes.
Value management and performance management including key elements of business cases.
Governance of IT enterprise.
Communicating with the management and the board.
IT management (running IT as a business).
Understand the fundamentals of Cybersecurity
Enterprise Governance of IT
Introduction to corporate and IT governance and how they must align
Sourcing strategy and vendor management
Introducing to sourcing strategy and to sourcing governance
Efficient communication with IT stakeholders
Communicate with the IT stakeholders: sponsors, users, management, board...
Coaching session 1
Liaise the already covered areas in line with the assigned case
Running IT like a business
Why IT should be consider and manager like any other business
Value management
Introduction to value management, how to build and manage efficient business cases
Coaching session 2
Liaise the already covered areas in line with the assigned case
The CIO Agenda - Digital Transformation
Get to understand the challenges that CIO are facing with the digitalization and consumerization of IT
Building your IT Strategic Plan
Brief introduction about IT strategy: work session of developing a IT strategic plan linked to business priorities
The module is concluded by an assessment (multiple choice questionnaire, short assignment, workshop, report writing and/or presentation before a panel jury) to validate its completion.
Topic Leader Daniel van den Hove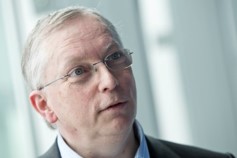 As a Topic Leader, Daniel van den Hove organises and manages the module for the benefit of the participants where sharing experience and management practices are at the core of IT. 
He is a Senior Executive with 30+ years experience in international management and business transformation in IT, supply chain, quality and customer management, digital transformation and much more.